PCR Covid Testing at Viral Solutions

Drive-Up Covid Testing in Atlanta: Viral Solutions
No Appointment Needed. No Wait.
No Out-of-Pocket Cost for Covid Testing for the Uninsured at our Brookhaven Location
Patients are Evaluated in Real Time by On-Site Viral Solutions Physicians and Physician Assistants.

Viral Solutions Covid Testing Location for the Uninsured
Uninsured + Insured Welcome: Covid Test Results Within 24 Hours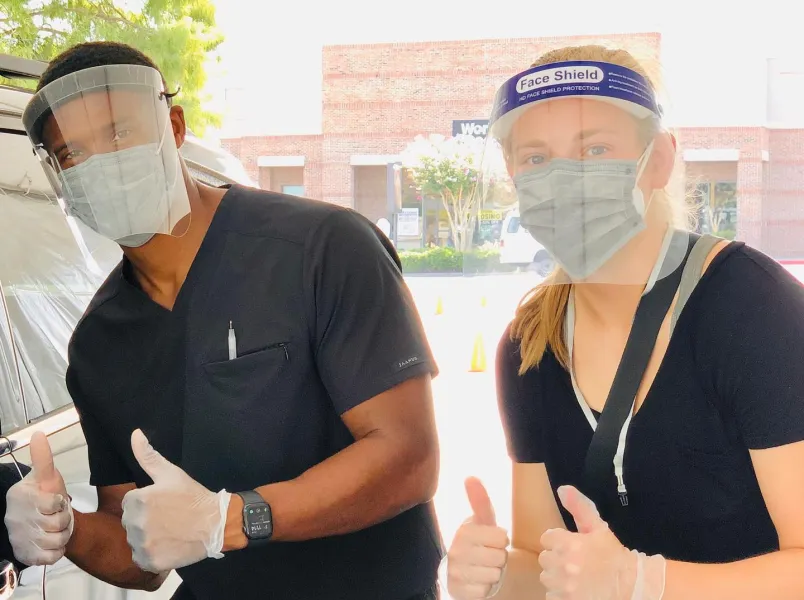 Viral Solutions Drive-Up Covid Testing is Best in Class
Viral Solutions was founded by an Atlanta-based Emergency Physician and Physician Assistant to help find a way to resolve the current COVID-19 testing and vaccination crisis in Georgia.
We perform COVID-19 PCR testing, because it is the gold standard test. Our patients are evaluated in real time by a local team of Viral Solutions Physicians and Physician Assistants.
We typically have the fastest turnaround times in Atlanta, with reliable results usually arriving within 24 hours.
Viral Solutions believes every person should have immediate access to the best COVID-19 testing available. No patient should wait to get a COVID-19 test. All patients—including the uninsured—should have easy access to COVID-19 testing, and that's what Viral Solutions provides.
See FAQ for more details.
Dr. Ben Lefkove, CEO of Viral Solutions, Describes Covid Infections, Vaccines, and Breakthrough Infections


Q
What type of testing does Viral Solutions perform?
A
Viral Solutions performs molecular-based RT-PCR (polymerase chain reaction) testing on anterior nasal samples. A small swab will be inserted into the front of your nostrils for a few seconds to obtain an appropriate sample. We chose to use RT-PCR because it caries the highest sensitivity for detection of COVID19. Our tests are approved for the detection of SARS-CoV-2 (COVID19) under an Emergency Use Authorization from the FDA.
Q
What is the difference between rapid testing and PCR?
A
There are many different testing platforms available for detection of COVID19. "Rapid tests" typically test for the proteins on the surface of the virus. This test does not carry the same high-level of sensitivity as the RT-PCR tests that we are performing. It is VERY important that your test detect virus if present, as false negatives can result in you inadvertently exposing your friends and loved ones to COVID19.

Q
How much will it cost?
A
We offer no-cost testing to the uninsured (and insured as well, per above) at our Brookhaven DPH partnership location. More info here.

Q
What if I am uninsured?

A
Visit our Brookhaven location for a COVID19 PCR test. We do not charge uninsured patients for the cost of evaluation or testing. You will be asked to certify that you are uninsured at the time of evaluation.
Q
How long will it take to get my test results?

A
Typically, test results return in 24 hours. One of our foundational principles is expedient turn-around of results, as it is vital that you have your answer as soon as possible. Your test results will flow directly into your patient portal, where you can view and print (if needed).
Q
What do I do if my insurance company denies payment for care I received at Viral Solutions? Will I be billed for this?
A
No, you will not be directly billed. We stand by our policy of no out-of-pocket cost for our patients. COVID19 diagnostics (the "lab fee") and associated Professional Service Fees (Provider evaluation, determination of medical necessity, and test ordering) were addressed by the Federal government with the insurance reforms enacted in the CARES Act and associated HHS regulations.

These reforms specifically state that there will be no patient cost-sharing (copays, deductibles, co-insurance, balance billing, etc) for COVID19 Diagnostics. Please see here, here, and here for additional supporting documentation related to the CARES Act, COVID19 Diagnostics, and HHS Regulations surrounding COVID19 testing.

If your insurance denies payment, we will work directly with your insurer to inform and educate them on the fact that your service is covered within the confines of the law and current regulations. Please email us at help@viralsolutionsga.com if you receive a denial of coverage notice from your insurance company.